Over the years, we have received many requests to start accepting USD payments as an alternative to EUR. We are delighted to announce that we continue to deliver and effective today, we accept payments in both U.S. dollar and euro.
Contabo is a German company and we think in euros, but we understand that in many countries, U.S. dollar is more popular than euro. We have recently reached 100,000 customers hailing from nearly 200 countries and our fast-growing customer community is getting more and more global. Accepting U.S. dollars is part of our effort to meet your demands.
The Choice Is Yours
We implement all new features with user experience in mind. That is why our website will choose currency automatically based on your location. Should you wish to change that, simply select your preferred currency on the top right corner on the page.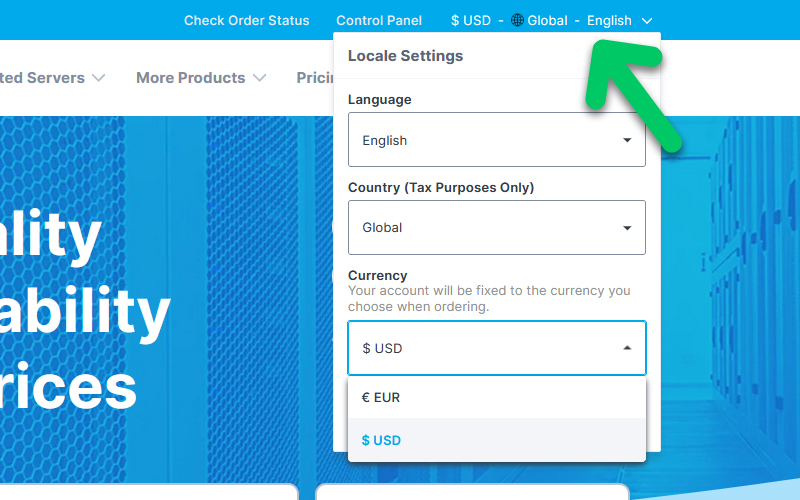 USD Payments Work with Credit Cards and PayPal
You can pay in U.S. dollar using both Credit Cards and PayPal. Currently, no bank transfers or Skrill payments are possible in USD. Should you prefer one of these two payment methods, we recommend using euro as your currency of choice.
Switching Existing Accounts to U.S. Dollars Is Easy
You will get a new account in our Customer Control Panel, with a new customer ID and new login credentials. Your old account will be removed.
You have to pick an eligible payment method (Credit Card, PayPal Billing Agreement or manual PayPal payments)
All your subscriptions will be moved to the new account
You will be charged according to U.S. dollar price list
We will charge a one-time fee of €25 for all the manual work involved
Should you prefer to pay for your existing services in U.S. dollar, simply reach out to our Customer Support.
I hope that you will find the possibility to pay in U.S. dollars convenient and this will make it even more likely to recommend us to your friends and business partners.
To celebrate that we are permanently waiving the Location Fees for all Dedicated Servers, VPS and Virtual Dedicated Servers in the United States purchased between today, March 2nd, 2021 and April 1st, 2021.