Updated: July 18, 2022
Originally published: March 31, 2010
Last week, an awesome customer who has been colocating several self-managed servers reported that he lost connection to one of his servers. Want to guess the reason? An unknown software problem. To solve this problem, he asked us to connect a KVM over IP device to his server. (So you're aware, we primarily offer self-managed servers ranging from dedicated servers to storage VPS (many of our customers are DIY). But, we also happen to offer managed dedicated servers, and many other vendors offer dedicated managed hosting services.)
Customer Ingenuity + Tinkering with Servers = Win
Before our technician could connect the device to the server, we received another email from our customer. He found another way to reconnect and regain control of his machine:
And before our technician could connect to his server, the customer sent us this email: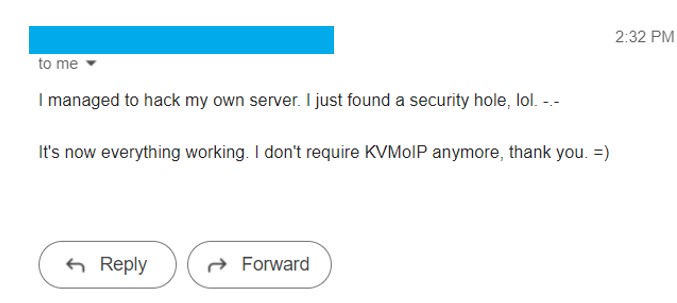 "I managed to hack my own server. I just found a security hole, lol. -.-
It's now everything working. I don't require KVMoIP anymore, thank you. =)"
When the entire support team picked up their respective jaws from the ground, they couldn't help but marvel at the customer's ingenuity. And in case anyone was wondering, they also worked with the engineering team to patch the security vulnerability he found. It's interactions like these that make us grateful for our customers and for being able help to them when it comes to their server needs. We readily admit we don't know everything. But, with a bit of patience and time, we always strive to take care of our customers. And at the same time, customers keeping us honest is what pushes us constantly to do better and continuously improve (we're not keen to rest on our laurels and industry recognition; we know we can always do better).
Server Hosting: A Collaborative Effort with Customers
We'd like to give a shout-out and big "Thank you!" to that customer for giving us permission to share his experience tinkering with one of his self-managed servers and his response. He also inspired us to regularly create tutorials and guides to help our customers (especially those who prefer to figure stuff out on their own).