A sneak-peak into our decision-making process.
On May 25, 2020 we have announced the release of a new product line: Virtual Dedicated Servers. Part of the big news was that Virtual Dedicated Servers will be based on AMD EPYC 7282 instead of Intel CPUs which we were using for VPS and Dedicated Servers. Here's an inside look into the process that lead us to that conclusion.
Objective: more computing power for the same price
The story goes back to late 2018 when we started to look at the next generation of CPUs to replace our current portfolio. Our principle was to find a CPU that will have the best price/performance ratio so that we can offer even more computing power while keeping our prices great.
Plenty of benchmarks
We started by looking at independent benchmarks (including this excellent analysis). Based on that initial research we have chosen EPYC 7401P, AMD Threadripper 2990WX, AMD Threadripper 2950W, and AMD EPYC 7282 for internal testing.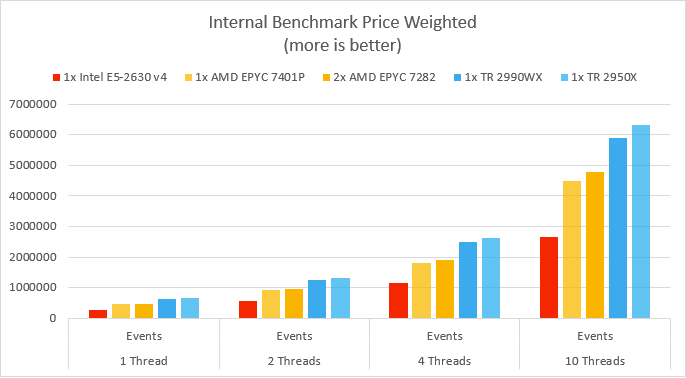 Although AMD Threadrippers where clear winners when it comes to raw performance, we had to exclude them as they are limited to 128 GB RAM. This CPU Core-to-RAM ratio doesn't work for most of our customers. That is why, we decided to go with AMD EPYC 7282 which can work with more RAM. Also price per core looks excellent for this CPU.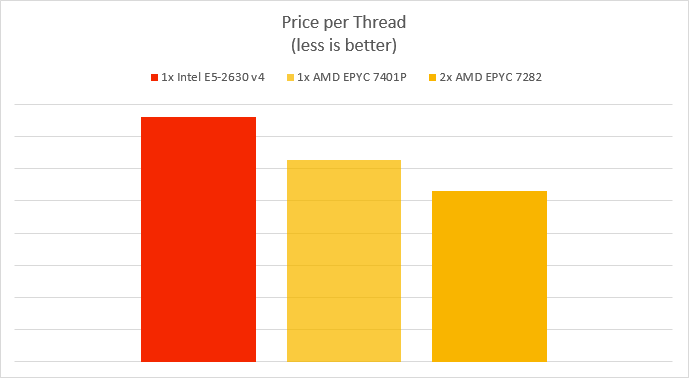 AMD EPYC 7282 vs Intel alternatives
AMD EPYC 7282 has a list price of about $1300 (in 2 CPU setup) which translates to around $40 per physical core. When it comes to price, the most comparable Intel CPU is Intel Bronze 2P 3206R. But the difference in performance is huge. AMD EPYC 7282 scores 194 in SPECrate 2017_fp_base benchmark, while Intel Bronze 2P 3206R only 72.9. This means that with AMD we can offer 33% more computing power per core at the same price. This is exactly the type of deal that we want to do in Contabo!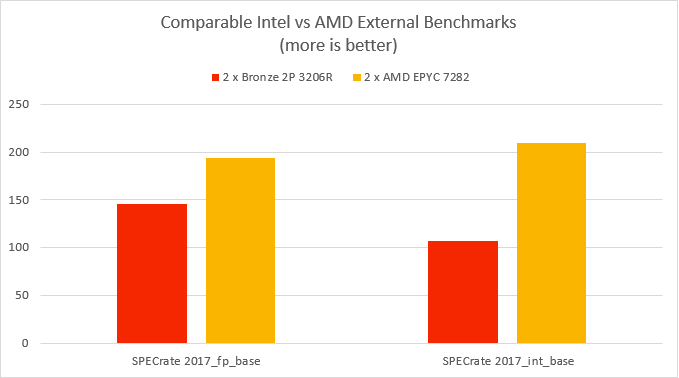 Although AMD EPYC 7282 is definitely not the most powerful CPU on the market, it makes it possible to deliver computing power at a great price which was always our mission at Contabo. But don't take our word for granted. Here's what VPS Benchmarks says about our new AMD-powered Virtual Private Servers.