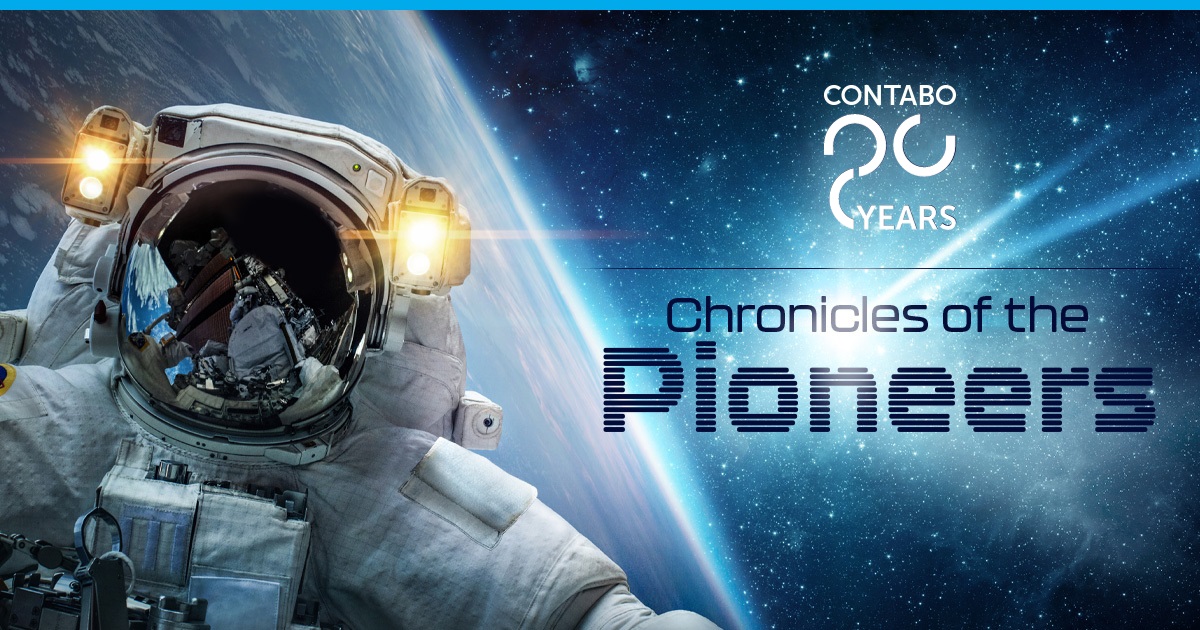 We are continuing our series Chronicles of the Pioneers with our Master of Trust and Compliance this time. In this interview with Christoph, our Team Lead Trust & Compliance, you will gain insight into his journey and the company's evolution at the same time. From a small support role to leading the Trust & Compliance Team, Christoph shares how Contabo's customer-centric approach remains steadfast even as we've scaled up to over 160k active customers in 2023. He highlights key moments in the company's journey, including rebranding and global expansion, and offers valuable career advice for those considering the cloud industry.
15 Years at Contabo
Christoph, you've been working at Contabo since 2008, that is 15 years. Tell us about your journey, why did you initially join the company? How has your role evolved over the years?
I had been looking for a company that had potential to grow. The IT sector was a logical decision for me. The company had to be small, as I wanted my impact to be visible. I also wanted to work together with people, internally and externally, and I found Contabo. It seemed to be the perfect match for me.

I initially joined the support department, then moved to the billing department for a few years. Then I moved back to support as the team manager. I'm currently leading the Trust & Compliance Team, which can be challenging, as the work mostly involves critical and official topics. The goal is to find compliant solutions for our customers. Being in touch with them and being able to resolve their problems is something I enjoy doing.
The year 2023 marks Contabo's 20th anniversary. Looking back, what are some key moments that stand out to you as defining the company's journey?
I'd like to mention our old website, which at first was quite outdated with almost no option to customize products. And the second version of the website had better options for customers to place orders. I think that was one of the first big changes that had an impact on the customer experience. I would also mention the opening of the Nuremberg Data Center. It has given us even more control over servers and the opportunity to deliver support even quicker.
Rebranding and New Data Center Insights
Michael has already shared his opinion about the rebranding at the beginning of 2013. What do you remember the most from switching from Giga-Hosting to Contabo? What was the perception inside and outside the company?
As the company switched to Contabo, the employees started to identify with the company even more. As for the customers, I remember some of them were unsure about the swap, suspecting major contractual changes. It took us some efforts to prove to existing customers that it's just about the name and that the reliability of the company remains unchanged.
During your tenure we opened several Data Centers. Which opening brings the most vivid memories and why?
The launch of the US Region was a big step in our expansion to other continents. Preparations were quite exhausting, the existing processes needed to be adjusted to the new situation. However, we were motivated by the advantages that came with the launch of the new Region, namely lower latency for our customers in the US. I personally consider this step as the one that transformed Contabo into a world-wide international company.
Customer-Centric Approach and Support
With customer growth milestones like reaching 100k active customers in 2021 and 160k active customers in 2023, how does Contabo maintain its customer-centric approach while scaling up?
As the number of customers grew, it was essential to change the internal company structure to fulfill demands and be able to respond to the changing situation quickly. I am really glad we have many more new teams and departments within Contabo. They all have the goal of finding the best solutions for the company and the customers. We have kept direct communication channels, and despite the team growing exponentially, there is no loss of reaction time. Everyone in the company is available to everyone at any time. There is always a contact person available who supports the other. That is, agents can always report directly to a superior. This way, there is always a quick solution for a customer.

Another important aspect is automation and the introduction of new features for customers. At Contabo, we know that customers usually prefer to find solutions on their own, that is why we try to improve our new products and new features. For example, within our Customer Control Panel.
We say that "customer is king," what does this mean to you?
I always keep in mind that customers pay me for delivering work which they benefit from. It's never about a specific customer, it's about every single customer who can rightfully expect that. I do remember very well a customer that I have supported on the phone for many hours to find the right product. In the end, the customer got the product that suited his needs perfectly. He was grateful and thanked me a lot for my support. I've kept this situation in mind as an example. The goal is that every customer feels this way.
Cultural Differences
At Contabo, we deal with customers from all over the world. How do cultural differences impact you?
To be honest, there is no impact at all. I am aware that there are cultural differences, but in the IT sector, I am under the impression that the cultural differences do not really matter. The focus is more on finding solutions for complex issues.

The only thing that might sometimes be challenging are the names. That is, name structures differ depending on the region. I personally find it challenging to find the correct form of salutation. This is important and means a lot to me. However, I don't remember any customer to complain. I'm glad that our customers are tolerant towards us in this regard.
Career Advice and Future Outlook
What advice would you give to those considering a career in the cloud industry?
I should mention that before starting to work in this industry, I didn't have a solid IT background. Over these years, I have learnt a lot about what happens "in the background." I mean, every one of us uses a computer and the internet, for example. However, not everyone knows the processes behind all that. I would say I have become a lot more knowledgeable in this regard. Thus, this industry is totally worth having a career in. With the advancement of IT, it becomes more and more important to have knowledge and experience in it.
How do you see the role of Contabo in the industry in the coming years?
The past decades have given evidence that Contabo is on the right track. We are growing. I'm confident that we'll continue to do so and keep the ability to cope with the ever-changing demands in the cloud sector. Contabo is slowly becoming a global player. I'm proud to be part of its history and to continue to do my job always having customers' interests in mind.
Thank you for taking this journey with Christoph through his 15-year tenure at Contabo, which vividly illustrates the company's evolution and its unwavering customer-centric commitment. As we commemorate Contabo's 20th anniversary in 2023, stay tuned for upcoming interviews and exciting developments!