What are the advantages of an external data center!
Last week I initiated on our facebook fanpages Contabo and Contabo International a small survey on the topic "server outsourcing". The response of course could have been a bit bigger, but at least 14 people have made their voices; so I take this opportunity to write a short blog post about the benefits of an external data center.
Actually, why do we, Giga Hosting, exist? And why do more and more outsource their server structure?
First of all the cost factor has to be mentioned. The purchase of an infrastructure comparable with modern data centers requires significant investment. So if one makes the decision for an own data center perhaps these acquisition costs must be provided instead of investing in strategic products.
Furthermore the administrative costs should be named aswell – this includes the maintenance and management of infrastructure and hardware.
Many of our customers rely on our wide range of hosting solutions in order to keep their investment costs low. Because we design individual server environments that are tailored to special needs of each customer. Whether they need dedicated or virtualized machines – they pay only what they actually need for their projects.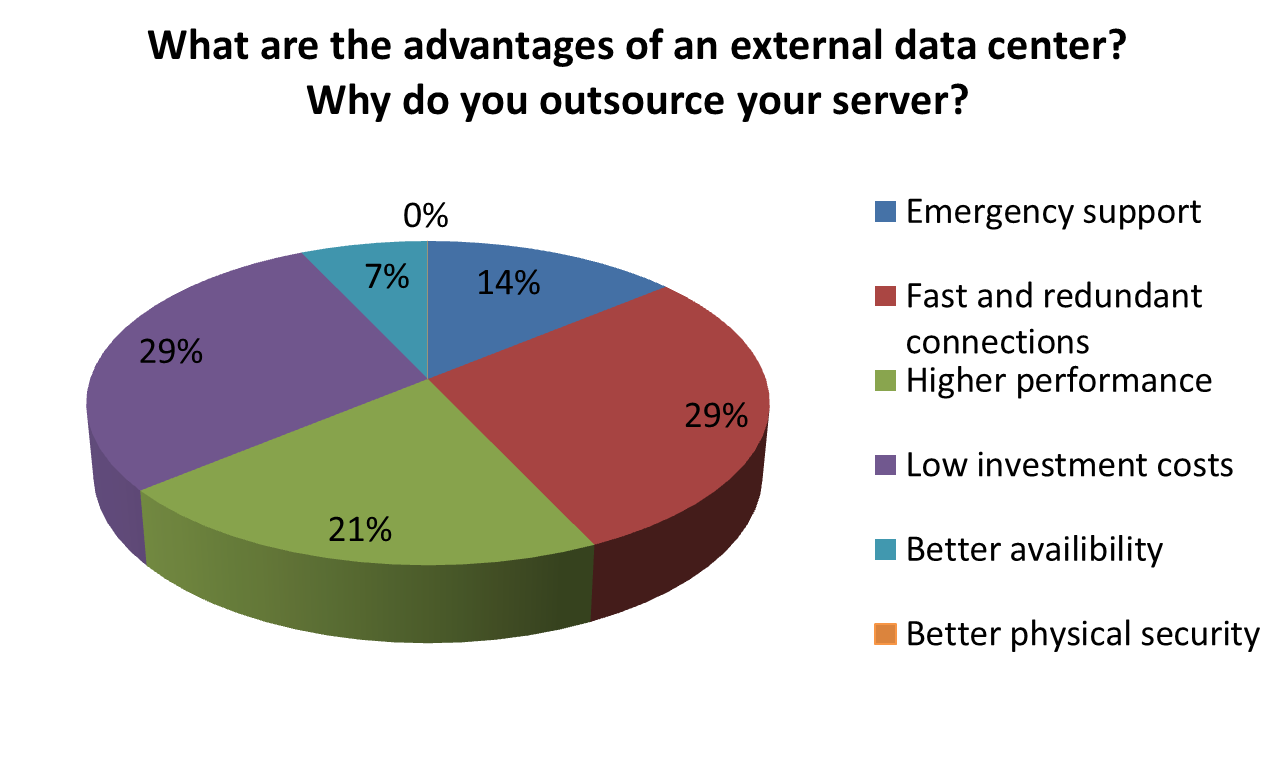 As you can see the main criteria for server outsourcing are "Low investment costs," "Fast and redundant connection" and "Higher performance".
But there is one very important advantage that benefits mainly Giga-Hosting: our competitive products.
Our efforts for existing on the market in such a successfull way have a positive effect on our customers; because we are always working on better conditions, even better prices and more powerful products.
Convince yourself on wednesday!
—————–The same text in german / Der gleiche Text in deutsch: ——————-
Was sind die Vorteile eines externen Rechenzentrums!
Letzte Woche habe ich über unsere beiden Facebook Seiten Contabo und Contabo International eine kleine Umfrage zum Thema "Server Outsourcing" gestartet. Die Resonanz hätte natürlich etwas größer sein können, aber 14 Personen haben immerhin ihre Stimmen abgegeben, was mir wiederum Anlass gibt, einen kurzen Blogbeitrag zu den Vorteilen eines externen Rechenzentrums zu schreiben.
Warum gibt es uns, die Giga- Hosting GmbH eigentlich? Und warum entscheiden sich immer mehr, ihre Serverstruktur auszulagern.
Ganz klar an erster Stelle sind die Kostenfaktoren zu nennen. Die Anschaffung einer mit modernen Rechenzentren vergleichbaren Infrastruktur setzt erhebliche Investitionskosten voraus. Diese müssen von Unternehmen erst einmal erbracht werden, statt anderweitig z.B. für strategische Projekte eingesetzt werden zu können.
Nicht zuletzt sind die administrativen Kosten zu nennen, die die Instandhaltung und Verwaltung von Infrastruktur und Hardware veranschlagen.
Viele unserer Kunden greifen auf unsere vielfältigen Hosting-Lösungen zurück, um die Investitionskosten von vornherein niedrig zu halten. Denn wir konzipieren und bilden individuell auf unsere Kunden abgestimmte optimale Serverlandschaften ab. Egal ob sie virtualisierte oder dedizierte Maschinen benötigen – sie bezahlen nur das, was sie tatsächlich für ihre Projekte benötigen.
Auch das von uns angebotene Server-Housing hat einen ganz besonderen Vorteil: Wenn Kunden ihre bestehende Serverinfrastruktur bei uns im Rechenzentrum lagern, kommen sie automatisch in den Genuss unserer redundant ausgebauten Infrastruktur.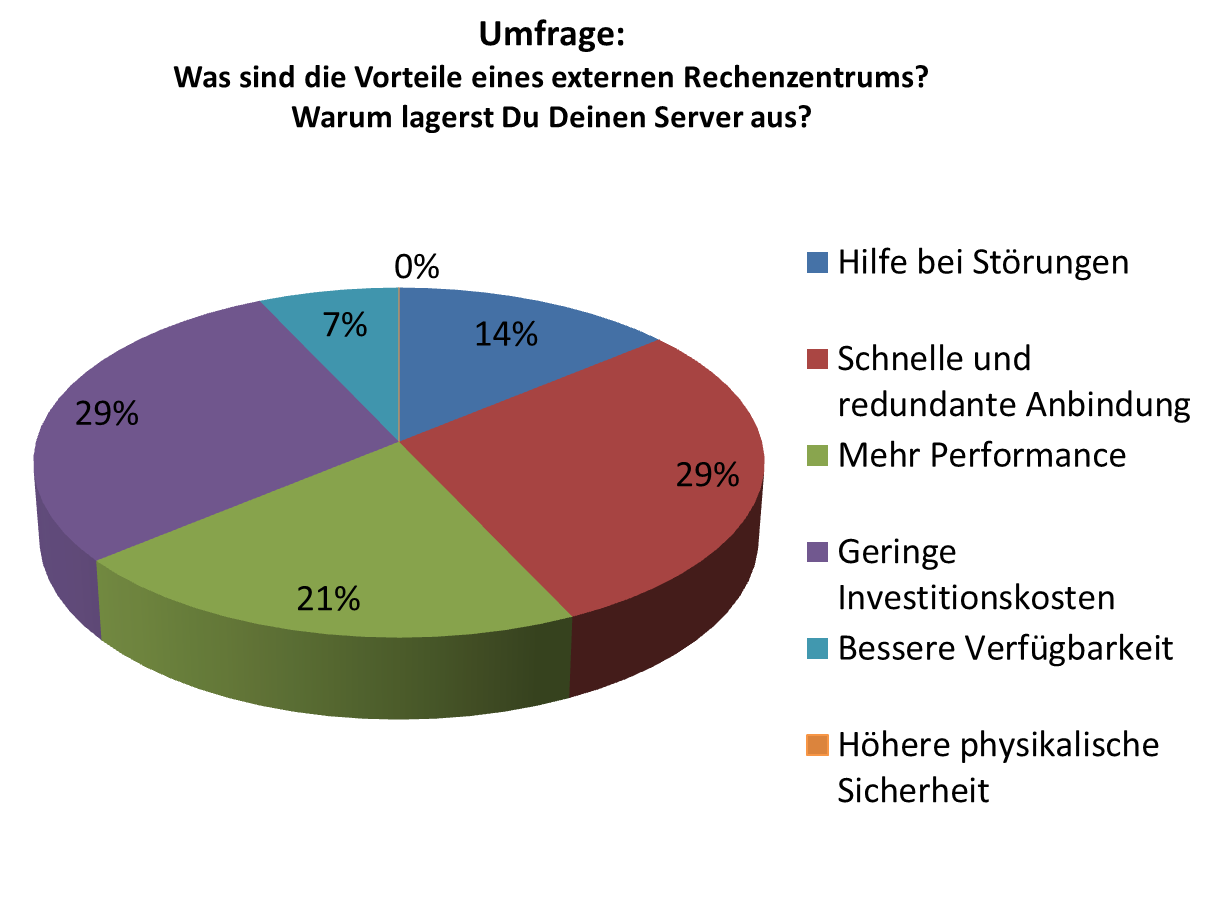 Wie man sieht sind die Hauptkriterien für eine Serverauslagerung ganz klar "Geringe Investitionskosten", "Schnelle und redundante Anbindung" sowie "Mehr Performance".
Ein ganz entscheidender Vorteil, von dem vor allem Giga-Hosting Kunden profitieren, liegt vor allem in unseren wettbewerbsfähigen Produkten.
Unser Bestreben, weiterhin am Markt so erfolgreich zu bestehen, kommt vor allem unseren Kunden zu Gute; denn wir arbeiten stets an besseren Angeboten und Preisen und noch besseren leistungsstärkeren Produkten.
Überzeugt Euch davon selbst kommenden Mittwoch!