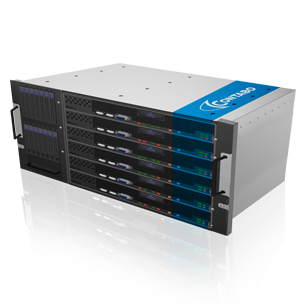 Late last year we announced the upcoming opening of our second data center in Nuremberg – now it's done.
A total area of about 2.300 square meters, the in-house transformer station with a capacity of more than 2.4 megavolt amperes and the multiple redundant fiber connections of our new object are waiting for 10.000 new internet servers. This is the benchmark that we have set on our second data center location.
Now 10.000 free server spaces are waiting to be filled up. In order to achieve this goal as fast as possible, we would like to offer our customers the best server at the best price – but still offering our high-quality customer support and services.
The result?
On the occasion of the opening of our second data center we proudly present our new server model:


Dedicated Server Dual Xeon
Two Intel Xeon E5 2620V2 processors, each of them with six cores at 2.1 GHz, so 12 x 2,1 Ghz in total
128 GB RAM (REG ECC)
Any combination of SSDs/HDDs available
1 Gbit/s high-speed internet uplink
Unlimited Traffic
Minimum contract period: 1 month
Unbelievable, but true: 119.99 EUR / month
Only now: NO SETUP-FEE
Now it's up to you: Get the new Contabo Dedicated Server Dual Xeon!