The migration of a website is always a challenging task for the webmaster. Beside a loss of reputation and ranking on search engines, dead links or famous 404-errors, there are some other risks during such a migration. But often it is more dangerous to leave the website on an old server, since old software can become a serious security risk.
Plesk Migrator
If you want to migrate from a current Plesk server with an outdated operation system or an EOL Plesk version, cPanel, Confixx, Helm or DirectAdmin server, Plesk provides the Plesk Migrator.
The Plesk Migrator is an extension which needs to be installed first. Within Plesk navigate to "Extensions", search for "Plesk Migrator" and then you can install it.
After the installation you can open the "Plesk Migrator" at the tab "My Extensions".

The next step is to "Start new Migration" and select the panel type, from which you want to transfer the data. Important: For this you need root access via SSH to the source server. Beside password authentication you can add an SSH key to the server.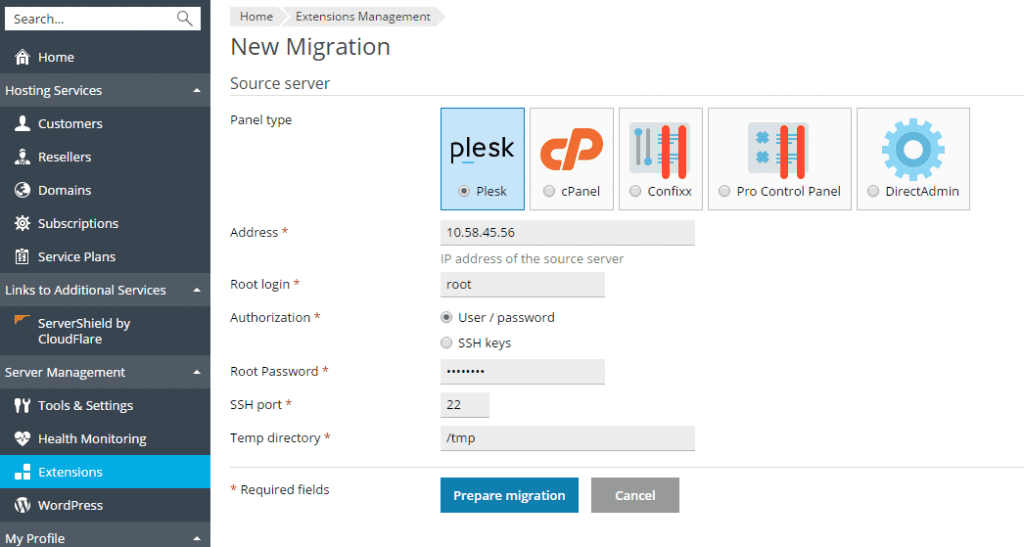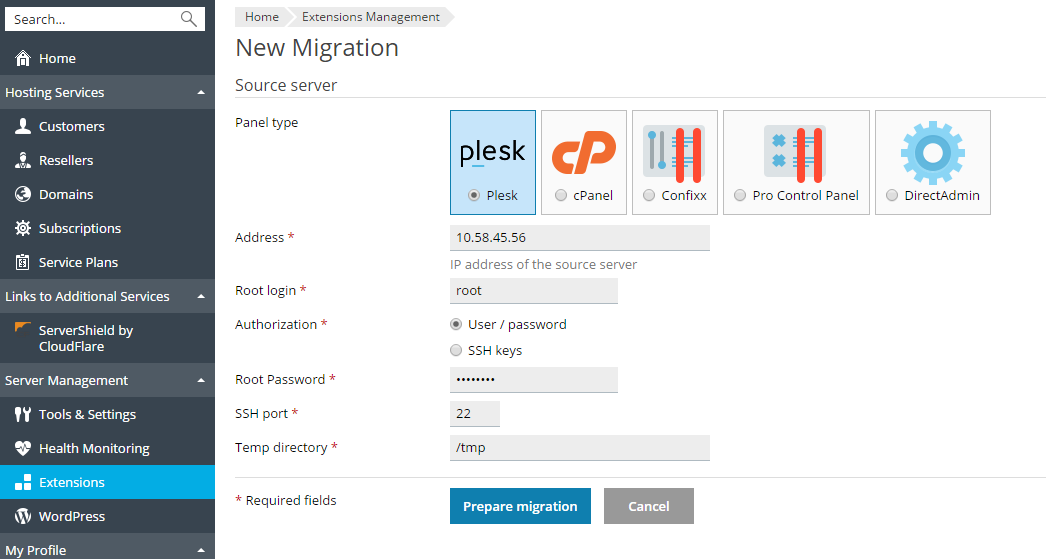 If SSH access is not available and only FTP is possible, please see the next chapter Site Importer.
After you have entered the login data, the connection to the source server is started and depending on the server, different migration options are shown.
On a Plesk-to-Plesk migration you can see the subscriptions, customers, reseller and hosting plans.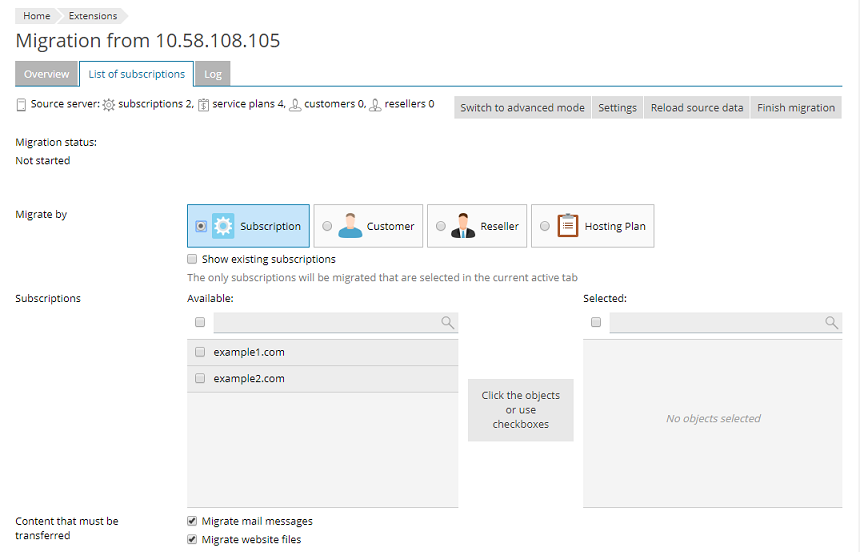 In addition you can either migrate the customers of a reseller or assign them to a new reseller. After everything is selected, you can continue with a click on "Migrate". At first there are some checks on Apache modules or PHP versions. If there are no errors or you want to ignore possible hints, the migration will start and you can watch the status of the migration.
In case you want to restart the migration after some days, you can click on "Restart Migration".
You can find further information in the Plesk Migration Guide and also in a support article.
Site Importer
In many cases, you already have a running website and want to migrate it with a few clicks. Likely examples are: you have just started with Plesk, you manage your website using a different panel like cPanel or DirectAdmin, or you have a server with a pure LAMP installation.
In this case, Plesk offers an extension called Site Import.
This is also an extension which needs to be installed. Therefore navigate to "Extension" in your Plesk and search for "Site Import", which can be installed then.
There a two different ways to import your website with the Site Importer:
You can login as server administrator and open "Site Importer" at "Extension" – "My Extensions". Alternatively you can navigate to the subscription and select "Website Importing". In the next step, you need to enter the login data for SSH or FTP.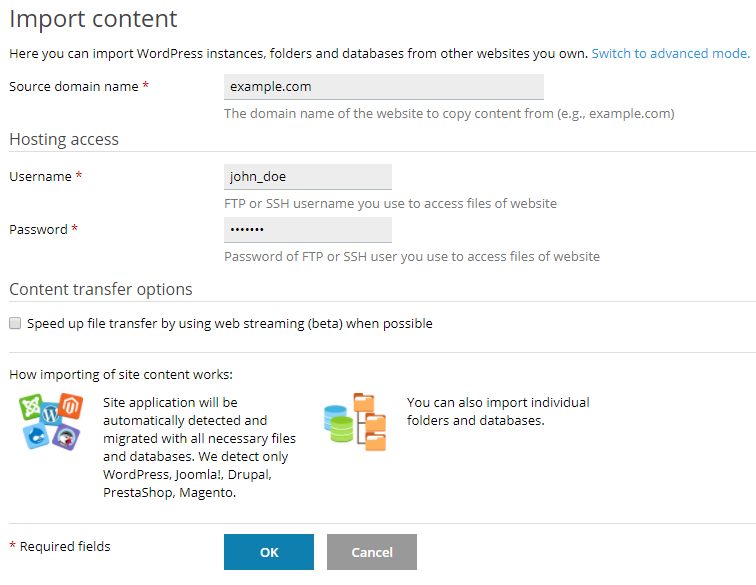 After you entered the login data and clicked "OK", the connection to the source server will be started and the necessary information will be gathered.

If the file structure can not be detected automatically, you can enter additional information like the location of the home directory.
Website software like WordPress, Joomla, Drupal und PrestaShop are recognised automatically and the import is easy. Further information can be found in the Plesk documentation.
Beside websites, this useful extension can also import email accounts. For this choose "Mail Importing" in the subscription. After a click on "Import mail messages", you need to enter the login data and destination email account. If the the email server can not be detected through the login data, you can enter the necessary details at "Show advanced options". With a click on "OK" the import starts.
Additional information is also available on the Plesk website.
Conclusion
We cannot eliminate the risks of a website migration, but minimize them since Plesk offers some useful tools to make a migration easier and reduce the human factor. But the most important thing for a successful migration is a detailed and well thought out planning.
Order a VPS from Contabo and you get the Plesk edition of your choice one month for free! You can also find further information on our Plesk information site.