Towards the end of the year 2017, we have some great news for you! Have you ever dreamed of creating your own website with just a few clicks? Well…then you might want to continue reading, because we have got a brand new feature:
The Contabo Website Builder.
From now on, it is available for existing customers as well as for new customers in every Contabo webspace plan – free of charge.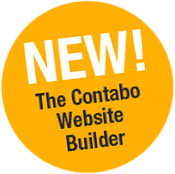 Thanks to our Website Builder, you can create and design your own website with just a few clicks within your webspace package:
It's easy and there is absolutely no background knowledge required
Choose from more than 200 templates
Responsive design: Your website is correctly displayed on mobile devices as well
In just a few minutes, your website is online
Add your own pictures, texts or other websites – wherever you think they fit best.
Of course: Available for all Contabo webspace plans free of charge
With additional tools, you can easily optimize your new website for search engines, add videos and maps as well as your social media accounts. Plus: If you are running an e-commerce site, adding a shopping cart and payment options is not just recommended, but completed with just a few clicks.
Find out more about the new Contabo Website Builder or place an order for your favourite webspace plan and publish your first, own website within minutes!