Contabo celebrates its 10th birthday. We would like to take this opportunity to give you a short look back on the history of our hosting company.
Over the last years a lot has changed at Contabo, formerly Giga-International. However, our main concern always has remained the same:
Our corporate goals:
Right from the beginning we were focused on customer satisfaction. Right from the beginning we realized that only satisfied customers are happy customers.
We have remained committed to our goals since our company has been founded. The customer had been king, in the past as well as in the present.
Our products:
Our product range has grown a lot within the last years. 10 years ago, in 2003, we started with just 3 webspace and 2 dedicated server offers. Now, 10 years later, we offer more than 18 different products, and don't forget all the further configurations that are possible with that.
Webspace:
Our webspace plans have gone through a tremendous change over the last years, but, fortunately, to the benefit of our customers.
The power has doubled and more than doubled over the years, but the price has significantly dropped regarding the price-performance ratio.
In the following, you will find a comparison about our webspace plans and how they have changed over the last years.
(The following graphics are only available in German language because from 2003 to 2006 our products had been offered only to customers based in Germany.)
Webspace in 2007:
Webspace in 2013:
Server:
Our former server portfolio is no longer recognizable.
In the following you find a brief comparison of the "Intel Pentium III" offered in 2003 with our current smallest root server in offering, our "Dedicated Server."
Please note the huge difference in price despite extreme power difference:
The calculation is quite simple:
Today (2013), we offer
– 6x more memory (RAM),
– 10x more disk space and bandwidth,
– for a 9x cheaper price.
VPS:
A relevant event in the history of Contabo was the introduction of our three VPS plans in May 2010. Right from the beginning they enjoyed immense popularity and they had been and still being sold like hotcakes. Reason for that might be the special price-performance ratio that we offer  :-).
At the product launch our customers benefit from 2 GB RAM and 100 GB HDD for just 9.99 Euros. Now, several years later, they get 4 GB (guaranteed) RAM and 200 GB HDD for the same price.
But one fact always remained the same:  all VPS are connected with 100 Mbit/s to the Internet and come with unlimited traffic. In addition to that, each VPS is delivered with root rights and it can be chosen out of a wide range of operating systems
As you can see, we strive to continually develop and optimize our products and services and always try to meet the wishes of our customers.
Website Relaunch:
In April 2010, our official website was completely redone and freshly designed. Our customers should benefit and take advantage of an easier handling within the ordering process, appearance and information flow.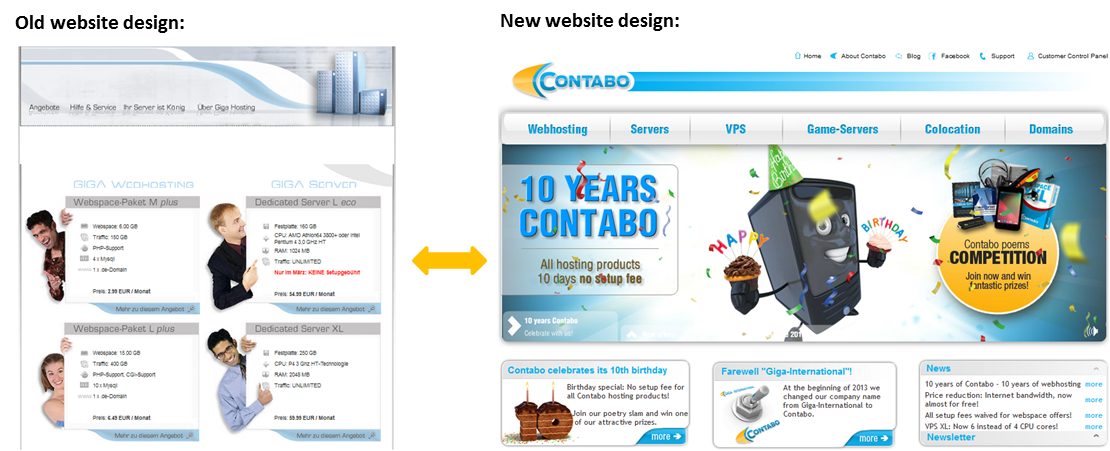 The most important milestones of Contabo: