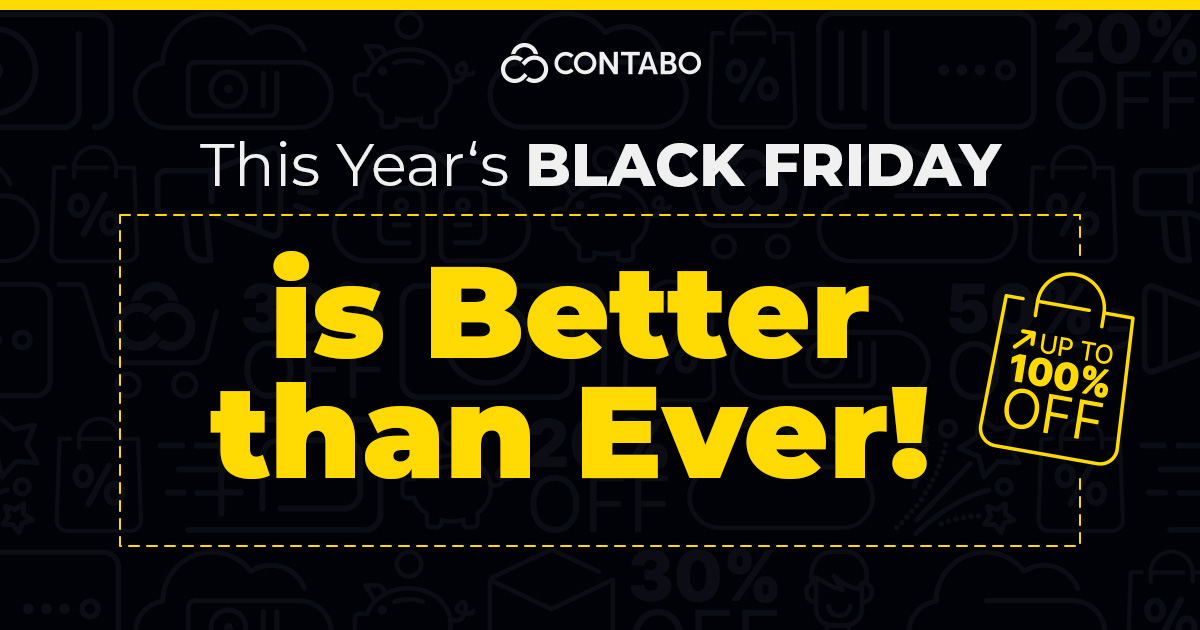 The holiday shopping season will soon be here, which means major sales for bargain hunters. Perhaps the biggest shopping period of the year is the Black Friday/Cyber Monday weekend, and this year Contabo is offering huge deals on our robust cloud hosting solutions!
Contabo provides businesses of all shapes and sizes with high-performance virtual private servers (VPS), virtual dedicated servers (VDS), dedicated servers, object storage, and discounted outlet servers. The Black Friday weekend (24-27 November 2023) will feature Contabo's biggest promotions of the year across all these product categories!
Unbeatable Black Friday offers:
The Black Friday weekend extends into Cyber Monday on November 27. We'll be revealing new lightning offers and flash sales every 24 hours from Black Friday through Cyber Monday, so be sure to check back daily for great new deals!
Let us help you make 2024 your year!
As we approach the end of 2023, it's the ideal time to start gearing up to take your business to the next level in the new year. Use this opportunity to get online with our enterprise-grade servers or scale up existing resources. And even though it's Black Friday, you'll never feel like you're left in the dark. Our friendly and experienced support team is available 24/7 to ensure that you have a smooth experience throughout the weekend, and beyond.
Of course, even amid all the Black Friday excitement, we remain security conscious as ever. All our global data centers are state-of-the-art and German quality, with GDPR compliance and advanced DDoS protection. All our offerings are also built with you, the user, in mind. You'll find it easy to use our customer control panel and API. 
Don't miss out on our biggest sale of the year! Take advantage of these limited-time Black Friday and Cyber Monday deals to empower your business with high-performance cloud infrastructure at unprecedented low prices. Supercharge your digital operations with Contabo's specialized VPS, VDS and dedicated servers optimized specifically for high-performance cloud workloads.