Today, on December 5th, the Krampus* brings…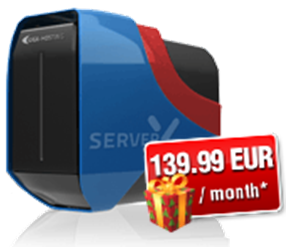 …our Dedicated Server X instead of € 149,99/month permanently for € 139,99. This special offer is just available today.
Order now, save money and get a hold of a high-performance machine!
The most important features in short:
Intel Core i7 3930K 6 x 3.20 GHz (Sandy Bridge-E)
– 64 GB DDR3-RAM
– 256 GB SSD (Samsung 830)
– 3000 GB S-ATA HDD
– 100 Mbps switch port
– Unlimited Traffic
And those who rather prefer a smaller (but powerful) model: We just run a setup promotion on our Dedicated Server 6-Core.
*For those who don't know "Krampus":
Krampus is a beast-like creature from the folklore of Alpine countries thought to punish bad children during the Christmas season, in contrast with Saint Nicholas, who rewards nice ones with gifts. Krampus is said to capture particularly naughty children in his sack and carry them away to his lair. …
(Source: Wikipedia http://bit.ly/3hOCAy)