From the everyday life of a Giga-International supporter….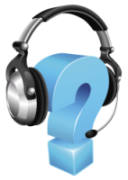 It really needs to be said here – we have real full-blooded supporter in our team who strive with heart and soul for the welfare of our customers. And that's not always easy – as you can imagine.
It really takes some good nerves to calm down a choleric customer on the other side of the phone, or to explain a Linux beginner the complex world of Linux in order to serve its Linux-based operating system.
But the job also has many funny sides, and one of them I would like to tell you briefly:
Some time ago there was a special request in our ticket system:
Hello Giga-International team,
I have got an idea: What would you say if I am getting a tattoo that shows the logo or URL of Giga-International, for example on my arm, neck or temple. If you are interested in my plan what would it be worth to you. The tattoo, your logo or your URL, would be decorating my body for the rest of my life. It would be a very lucrative advertising space, since I travel a lot and this would attract much attention, and certainly this will bring you many new customers.
I am looking forward to your answer.
Kind regards


(name is not mentioned here)
After a brief consideration our supporter wrote back as follows:
Dear Mr


Thank you kindly for your quite interesting offer to act as a living billboard for Giga-International. Besides the aspect of a contractually permitted assault and its possibly juristic consequences, our marketing team would surely have a hard time in deciding which part of your body would qualify best of bearing the tattoo. We safe ourselves from discussions of this type and hope for your understanding if we pass your friendly offer.
If you have any further questions or we can be of help elsewhere, please let us know.
Best Regards
Your Giga-International Team
The supreme principle of a supporter: Always remain calm, competent and friendly no matter how absurd, outrageous, dubious, funny, incredibly the customer's request is. Everyone who is able to follow this rule has all that it takes to become good supporter.